Meet Di
---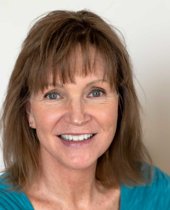 As an active, full-time Broker Associate with LIV Sotheby's International Realty, I offer a diverse and extensive background in real estate sales and investing, including ski town living expertise. Having been an active Realtor in Oregon prior to getting licensed in Colorado in 2005, I've lived exclusively in western ski towns my entire adult life. As a retired telemark skiing and mountain biking competitor, I understand and embrace the Crested Butte lifestyle and the many things that draw people to the Gunnison Valley.
Not only do I pride myself in my willingness to go the extra distance for my clients, I am committed to doing whatever it takes to assure buyers have every question answered and are completely comfortable with their real estate purchase and the work I'm doing for them.
Aligning myself with LIV Sotheby's International Realty also enables me to provide an incomparable level of service to my listing clients. Extensive online and print marketing with unparalleled reach to qualified buyers, presenting each listing with the highest level of marketing artistry and utilizing the Sotheby's brand.
Knowing that every real estate client appreciates the availability of their Realtor, I give a high level of personalized attention to every buyer and seller I have the privilege of working with.
Thanks to the talented team of professionals with the common goal of customer satisfaction, LIV Sotheby's International Realty continues to dominate the real estate market in the upper Gunnison Valley, consistently capturing the highest market share year after year.
---
At LIV Sotheby's International Realty, our people make the difference! Learn more about one of our remarkable brokers, Di Bridges, in her personal Q&A.
What initially drew you to the real estate industry? My interest in real estate began in my late 20s while becoming a student of various real estate investment gurus. It was relatively easy to tap into the market in those days, as you can probably imagine. Throughout my 30s and 40s, I flipped houses in Bend, Oregon and in other places. In both Oregon and Arizona, I acquired my license for access to better knowledge of the local markets for investing. When arriving in Crested Butte in 2001 it made sense for me to make use of that knowledge and experience, and seeing the market start to boom in the early 2000s convinced me to get licensed in Colorado as well.
What makes LIV Sotheby's International Realty unique? I can't image being affiliated with any other real estate company and I feel fortunate to have been chosen to join this office. Brand recognition, incredible support and services, and training far beyond what I'd experienced prior to joining Sotheby's International Realty in 2015 are what I'm most grateful for. It's no surprise that LIV SIR dominates Crested Butte's local real estate market, with each agent having the support needed to go above and beyond in every way.
What is a trend that you are keeping your eye on right now in the industry? Hmm, the recent event with the most potential impact on our local real estate market is the acquisition of Crested Butte Mountain Resort by Vail Resorts. Our smaller unique ski area with steep terrain unlike any other in Colorado was in need of a boost; Vail came around at exactly the right time. Their long term plans have been kept under wraps but improvements to the infrastructure thus far are greatly appreciated. Vail also seems to be respecting our community's requests to not change our unique culture by turning our ski town into another super-resort. Anytime I ski elsewhere in Colorado, I return home feeling lucky to be a part of this unique community with access to great skiing in a place that still feels like a mom-and-pop ski area to me.
What are your hobbies/interests outside of the office? Bulldogs, craft beer, live music, doggie skijoring, skiing of all kinds, ice skating, mountain biking, and spending time with family and friends.
What's your favorite part about living and working in Colorado? As a child in New York, I dreamed of becoming a skier when I grew up. My best friend, someone old enough to be my mother, was a skier, and she constantly shared with me her tales of skiing both domestically and in exotic faraway locations. She had also been a competitive speed skater back in the 1930s. So naturally, I gravitated toward those sports as an adult, making use of hand-me-down equipment from my friend at first. Winter is by far my favorite time of year and having lived in several other ski towns throughout the west, I find that this elevation and this climate suit me best. It's great fun for me to share my ski-town living expertise with real estate clients. Selling real estate enables me to have the lifestyle I'd always envisioned.
What community do you live in? What do you like about it? Ahhh…home. We live in an area referred to as Jack's Cabin – the site of a miner's trading post back in the 1880s. We're surrounded by mountains and thousands of acres of cattle ranches. We board horses and we literally see elk from our home 9 months out of the year. Twice annually large herds of elk and deer migrate through the ranches to and from the Almont Triangle, a winter wildlife refuge that is closed to humans half the year. We love sharing our home with friends, it's a special place.